CANMAKE - 驚~喜~不~斷~電 !
盡 情 寵 愛 自 己~!獲 得 他 人 良 好 的 第 一 印 象
Look like a sophisticated lady this spring with nude pinks and dusky pinks❤ Coming soon to U.S.
2021.04.07商品情報
Seductive without being too sweet ❤
It's time to grow up and move on from those cutesy pinks
UNLOCK YOUR BEAUTY POTENTIAL !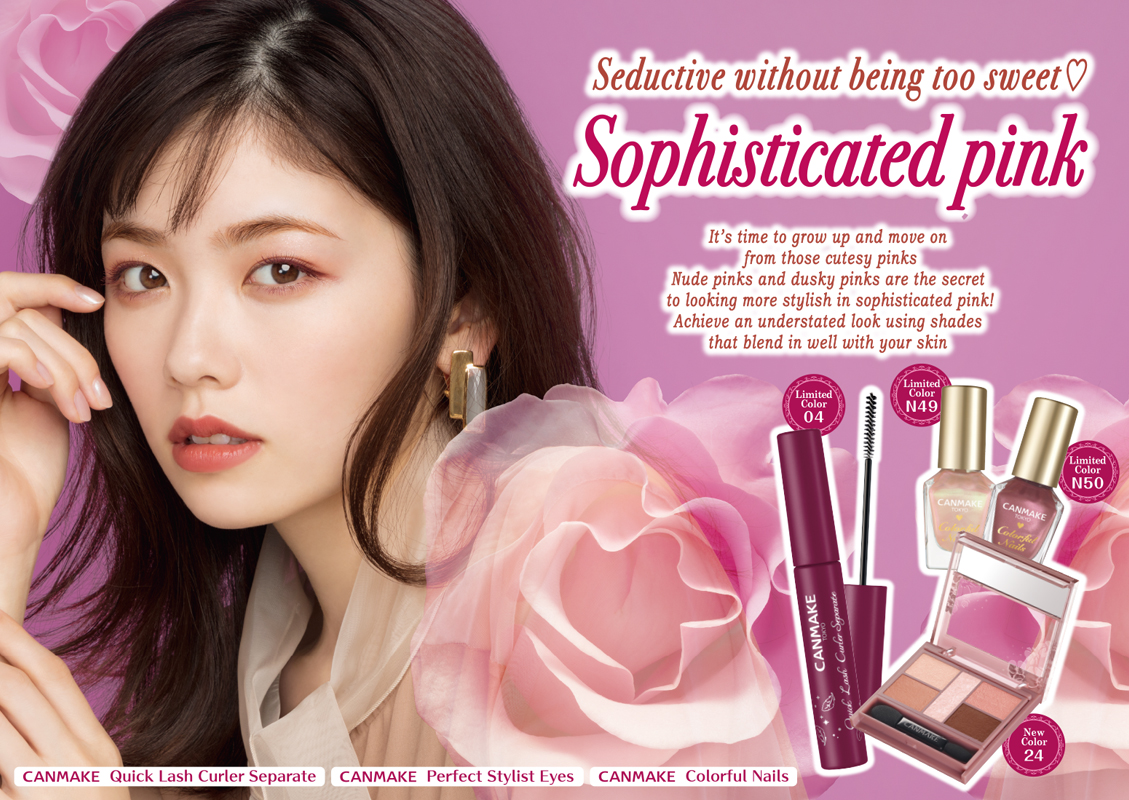 New from Perfect Stylist Eyes
—sophisticated nude shades that add the perfect rosy glow!

New Color
24 Mellow Milk Tea
Ideal for any occasion and easy to coordinate with colored eyeliners and mascaras

・Contains moisturizing ingredients
・Comes with a mirror
・Comes with a double-ended tip

CANMAKE Perfect Stylist Eyes ¥858(tax included)
Get 2 different looks with just 1 palette

New Color Shade worn by model24 Mellow Milk TeaSoft, sophisticated nude shades.

05 Pinky Chocolat
A quintet of pink and brown shades that's No.1 for ease of use.

22 Apricot Peach
Fresh shades with hints of pink and orange.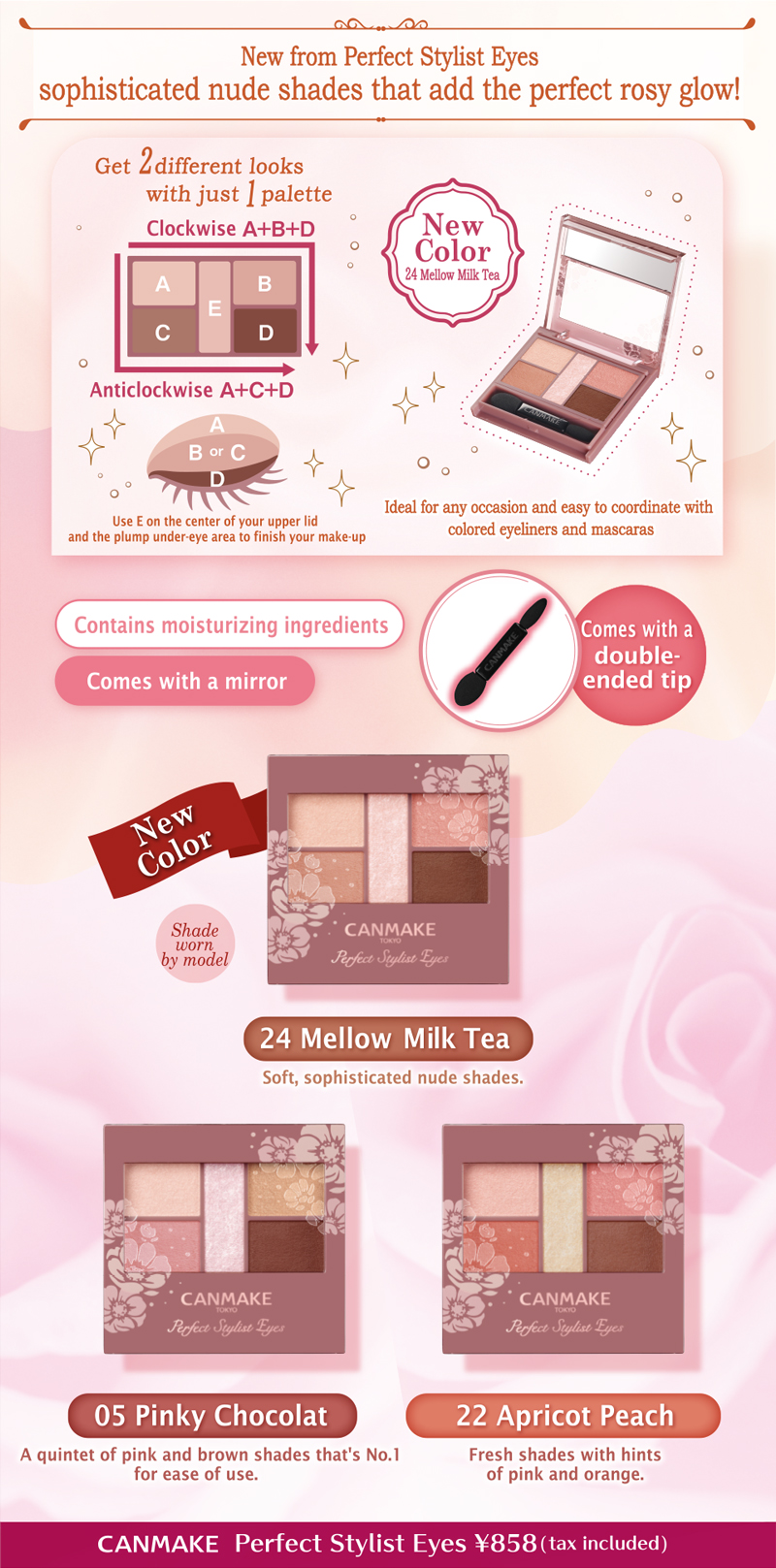 New to the Quick Lash Curler Separate range!

Limited-edition shade 04 Wine Mauve
This reddish-mauve provides a delicate touch of color
For lashes that create a gentle, feminine impression


Shade also available in the Quick Lash Curler range!

If you want perky lashes for a gaze with impact
→ Quick Lash Curler WM Wine Mauve

If you want finely separated lashes
→ Quick Lash Curler Separate 04 Wine Mauve

・Waterproof
・Smudge-proof
・Contains serum ingredients
・Fiber-free
・Ultra-fine brush

CANMAKE Quick Lash Curler Separate ¥748(tax included)
A Quick Lash Curler specially designed to create natural-looking, finely separated lashes!!!


Limited Color Shade worn by model
04 Wine Mauve
Mauve with a touch of redness
01 Clear
Subtle clear finish
02 Black
A natural-looking black
03 Brown
A soft brown

Bring your sophistication into full bloom with dusky pink nails❤

N39
We recommend applying 2 coats!
N49
Apply over your existing polish to create a subtly different shade!
N50
Stylish even when worn alone!

CANMAKE Colorful Nails
Uses a long-lasting base formulation that has superb shine and is easy to apply.

Limited Color Shade worn by modelN49 Opal Pink
Light-polarizing pearl creates an opalescent shimmer.
Try layering it over other nail colors to subtly alter the shade!

Limited Color
N50 Vintage Blossom
A dusky rose pink with shimmering light-polarizing pearl.

Shade worn by model
N39 Petit Ballerina
Accented with twinkling pink pearl, this dusky pink won't look garish against your skin.

・Perfect Stylist Eyes 24
・Quick Lash Curler Separate 04
・Colorful Nails N39, N49
・Creamy Touch Liner 06
・Perfect Airy Eyebrow 03
・Creamy Foundation Stick 03
・Transparent Finish Powder SB
・Highlighter N01
・Glow Fleur Cheeks 12
・Melty Luminous Rouge 06