嚴選柔軟蓬鬆棉花多層堆疊,不使用任何接著劑,使用水壓處理工藝,讓化妝棉層層固定。
質地如絲般柔軟細膩,不會在肌膚上殘留纖維。適用於濕敷、拍打化妝水、擦拭肌膚。

使用纖維製品國際規格Oeko-Tex Standard 100認證中最嚴格的「產品分類I(嬰幼兒)」標準素材,針對嬰幼兒都能安心使用的材質。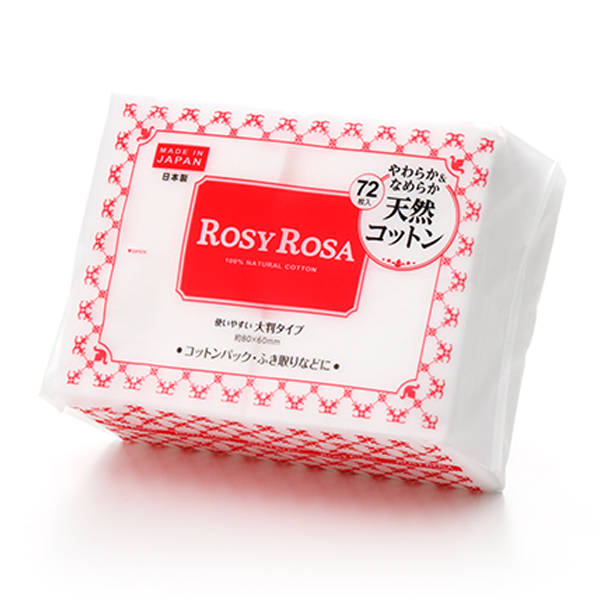 Layers of carefully selected ingredients that are particular about softness and smoothness are layered.
To make the best use of the original softness of cotton, it is compressed and fixed by the power of water without using any adhesive
In order to make the cotton smooth but not fluffy, we have adopted a manufacturing method that minimizes fiber damage .
Rosy Rosa Large cotton has cleared the strictest condition
"Product Class I (Infant Products)" of the international standard "Ecotex Standard 100" for textile products, and has been recognized as safe for use on baby's skin.
How to use
[Tips for cotton packs]
Soak your own lotion so that the cotton is soaked in it, and put it on the part you are concerned about drying. A guideline is about 5 to 10 minutes.
Precautions for use
● Please refrain from using it for purposes other than cosmetics. ● Because natural cotton is used, yellow and black spots may remain on the surface and inside, but there is no problem with the quality. ● Should this disagree with your skin, discontinue use. ● This product is insoluble in water. Do not flush down the toilet after use. ● Store out of places with extremely high or low temperatures and places exposed to direct sunlight. Also, after opening the package, keep it clean to prevent dust and dirt from entering. ● Keep out of reach of children.