全新包裝,眼影盒內鏡子變大,能更精確的塗抹眼影。
中間的寶石閃粉眼影位置相對變長,令眼影棒更容易印上更多的閃粉,
閃粉密著度提升,上妝不易飛粉。
讓您隨時隨地都能輕易化出帶閃亮效果的眼妝,或不閃亮的美炫眼妝!
不論是耀眼的眼妝或是含蓄的妝感,最後疊上透明的亮粉讓雙眼如寶石般璀璨!
潤澤粉末成分含有角鯊烯,滑順服貼高顯色度,妝效持久不暗沉!
附鏡子和雙頭刷子。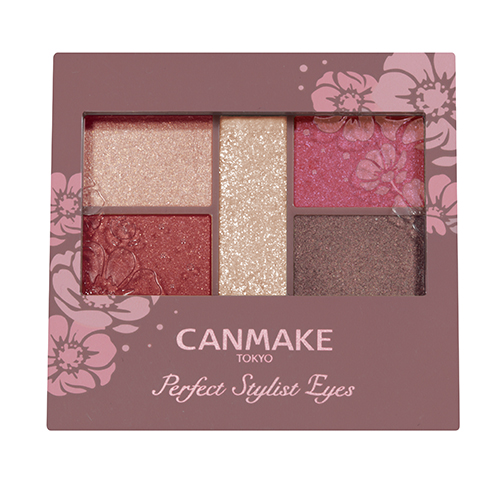 [14]Antique Ruby
Classic shades offering sophistication and sexiness.
We've revamped Perfect Stylist Eyes!
Clingier glitter! Bigger mirror!
Enjoy 2 different looks with just 1 palette!
● The main shades are located at the top right and bottom left, so you can create two different looks according to whether you go clockwise or anticlockwise!
Choose your look according to your mood each day.
Clockwise: A→B→D
Anticlockwise: A→C→D

Clings to your eyelids
●A moist powder formulation, containing squalane.
Fine, smooth particles that cling to your lids without powder scatter!

Glitter shadow offering complete control of your sparkle level!
● The high-luster glitter shadow in the center of the palette is cleverly designed to provide sparkle while adding barely any color.
It opens up a wider range of possibilities according to how you use it ♪

Apply first
Apply the glitter shadow over the whole eyelid before applying A to subtly enhance the shimmer of the eyeshadows applied over it.
Perfect when you want just a faint sparkle.

Apply last
Apply the glitter shadow in the center of your eyelids after applying D to create sparkling, lustrously defined eyes.
Ideal when you want to look properly glamorous.

On your lower lids
Apply the glitter shadow to your lower eyelids to emphasize the plump under-eye area and make your eyes look bigger!
COLOR OPTION

[02]Baby Beige
A natural shade that melts into your skin.

[10]Sweet Flamingo
Sweet and gentle feminine shades.

[14]Antique Ruby
Classic shades offering sophistication and sexiness.

[16]Double Sunshine
Healthy-looking shades with a scattering of sparkle.

[18]Bitter Sweet Memory
Muted colors with depth.

[19]Urban Copper
A red-toned copper-brown palette.

[22]Apricot Peach
Fresh shades with hints of pink and orange.

[23]Almond Canelé NewColors
Versatile shades suitable for all occasions.