著眼於預防 肌膚黯沉
先端淨白科學研究成果,速攻美白面膜
10分鐘開啟 肌膚透亮巔峰
黛珂 WHITELOGIST
擊黑瞬采面膜
每週使用 1 2 次美白機能面膜,美白成分 麴酸, 深入肌膚 對抗 黯黑根源 。
添加麥角硫因與黃龍膽根淬取液 ,賦予肌膚驚人的潤澤力與優異滲透力 。
嚴選的高彈力、高服貼的雙層面膜載體,將乘載的豐沛美容成分,完整傳遞至肌膚,發揮最大淨白力。
質地清爽,清新的草本香氛,增添使用時的舒適感。
無添加Paraben 類防腐劑。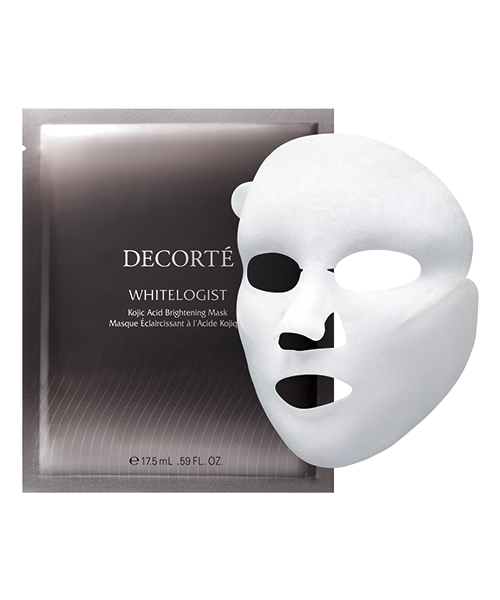 An intensive, brightening correcting treatment mask formulated with our proprietary active ingredient Kojic Acid, helps diminish and prevent the appearance of dark spots and discoloration.
Just 10 minutes to clearer, more luminous, translucent skin.
Over time, the look of dark spots and discoloration is diminished.
A unique two-layer compression sheet stays on skin while quickly delivering an abundance of ingredients to the deepest layers of the skin.
Paraben-free.
Made in Japan.
Kojic Acid:
Purified biotech fermentation of Koji (Rice Malt) helps diminish the look of dark spots while proprietary Bright Concentrate Complex, a potent antioxidant, helps protect and prevent future discoloration.
Ergothioneine:
A powerful antioxidant with anti-inflammatory benefits that helps prevent the formation of melanin.
Vitamin C:
A renowned antioxidant known to protect skin from oxidation stress caused by UV rays, helps brighten skin and boost the appearance of firmness.
Licorice Root Extract:
A potent antioxidant and skin-soothing ingredient, effective in improving the look of an uneven skin tone.
Gentiana Lutea Root Extract:
Originally from the Alps and Pyrenees, this extract has high moisturizing effects and is a powerful anti-inflammatory, effective in calming and soothing skin.
Paraben-free.